We create space in the art world for the authentic appreciation of artists of diverse backgrounds.
Brandywine Workshop and Archives (BWA) is a diversity-driven, nonprofit cultural institution that produces and shares art to connect, inspire, and build bridges among global communities. At BWA, creative expression is fostered through collaboration and processes that employ conventional as well as emerging technologies.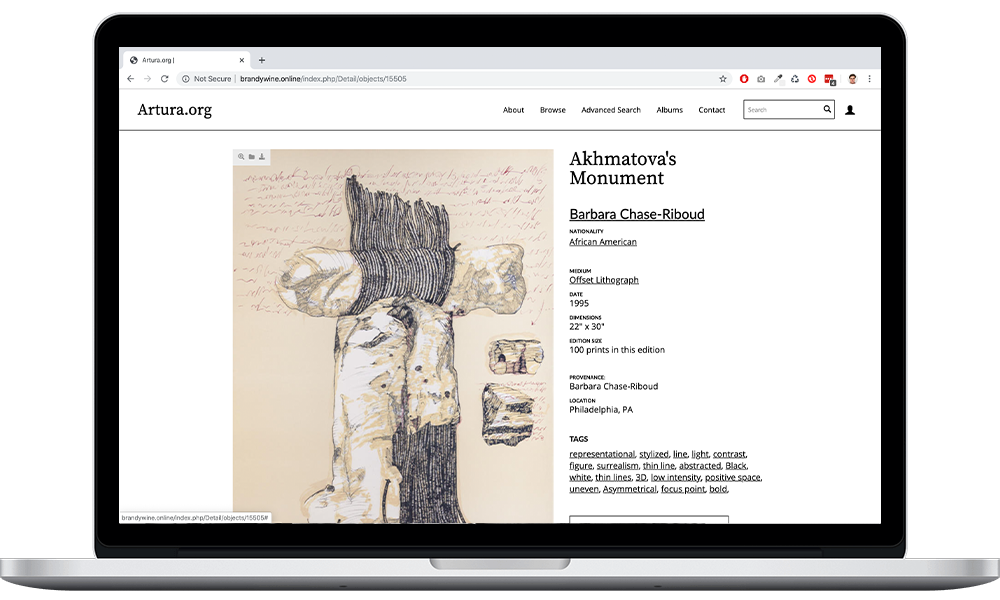 A free, interactive digital archive of culturally diverse art and artists, Artura.org gives visitors access to a wide variety of voices, experiences, and histories not found in any other single open-source educational resource. Our platform allows users to access and interact with art that represents contemporary cultures, histories, and traditions from around the globe.
The core component of BWA's archives is the organization's permanent collection of more than 1,400 original prints, collages, and other works of art on paper. These artworks are accompanied in the archives by photographs, video and audio recordings, publications, correspondence, and other documents relating to the 450-plus artists represented in the permanent collection. A large portion of this information is housed at the Historical Society of Pennsylvania, Philadelphia. 
Also housed for posterity in the archives are papers, publications, and publicity documenting BWA's organizational history: its governance, policies, strategic planning, and artistic and outreach programming.