You can support the Brandywine Workshop by contributing to any of these funds and in doing so, perpetuate its strong tradition of instructing and mentoring talented students, and collaborating with diverse artists of all ages
Gerald A. Pogach Scholarship Fund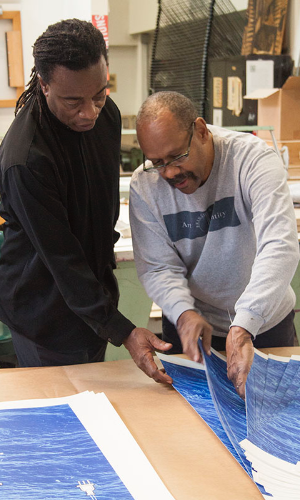 Gerald A. Pogach (1929 -1996) was a Philadelphia-based painter, sculptor, and educator, served on the Board of the Brandywine Workshop, and taught in the public schools of Philadelphia. The Gerald A. Pogach Scholarship Fund provides for summer internship stipends at Brandywine for art students (grades 10-12th) attending School District of Philadelphia high schools. The purpose of the internships is to develop students' artistic talent by working with master printmakers, mature artists in the printmaking studios and assisting staff while learning collections care and management, arts administration and program planning.
A memorial exhibition of Pogach's work, curated by several of his professional colleagues and friends, was held at Brandywine in 1998. Proceeds from the sale of works at that exhibition, as well as contributions raised through the efforts of his widow, Mary Kilroy Pogach, were used to create the fund that honors him.
More recently, the estate of the artist, which is managed by his widow Mary Kilroy Pogach, and the Brandywine printshop collaborated on a re-imagined image of one of Pogach's early paintings to create a limited edition print, Interstellar, an 11-color woodcut using digital technology and computer numeric cutting. The edition of 40 prints sells separately for $1,000 with free shipping. All proceeds benefit the Scholarship Fund.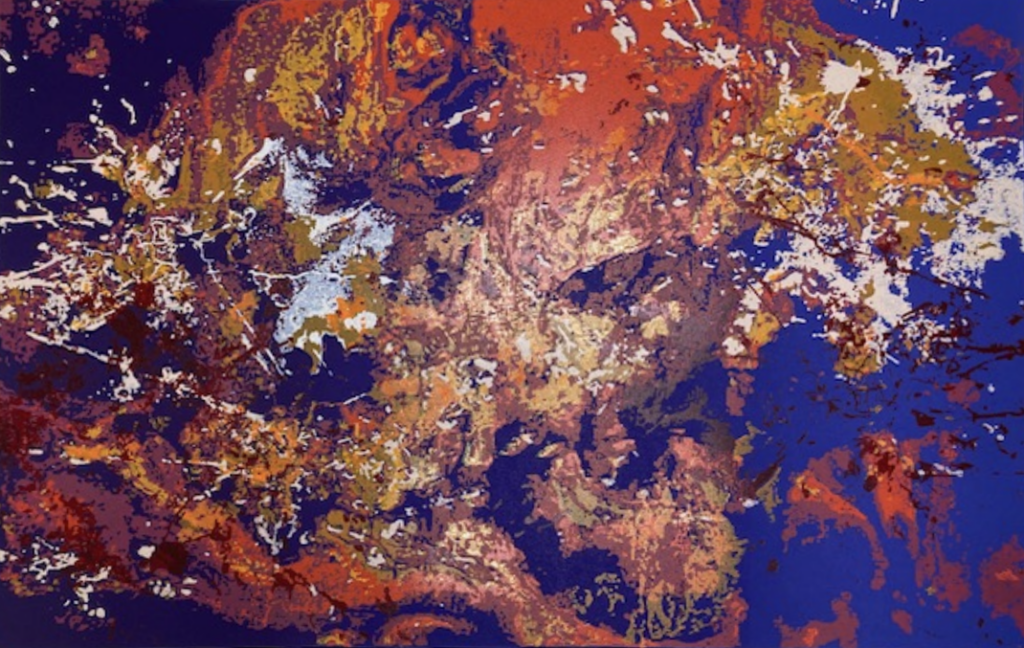 Anyone wishing to donate $1,000 or more to the Gerlad A, Pogach Scholarship Fund may choose the print as a gift. However, in doing so there is no tax-deduction provided. Any amount over $1,000 can be deductible.
Joyce de Guatemala Scholarship Fund
Joyce DeGuatemala created wood and steel sculptures of geometric simplicity influenced primarily by Native American mythology. She won numerous prizes and awards, and her sculptures remain a notable part of Philadelphia's public art landscape.
After she married Jason Vourvoulias, DeGuatemala relocated to Chester County, Pa., where she began a long affiliation with the Marian Locks Gallery in Philadelphia. She became a fixture of the local art scene, exhibiting at the Moore College of Art & Design, Lehigh University, the Noyes Museum in New Jersey, and in Fairmount Park.
She was a pioneer for women in arts in Latin America, and never stopped trying to break down barriers for women and Latinos in the arts, even after becoming a United States citizen in 1999. She earned the respect of art critics both in Guatemala and abroad.
The Joyce DeGuatemala Scholarship Fund enables Latin American women to achieve training and recognition through Visiting Artist Residences at Brandywine.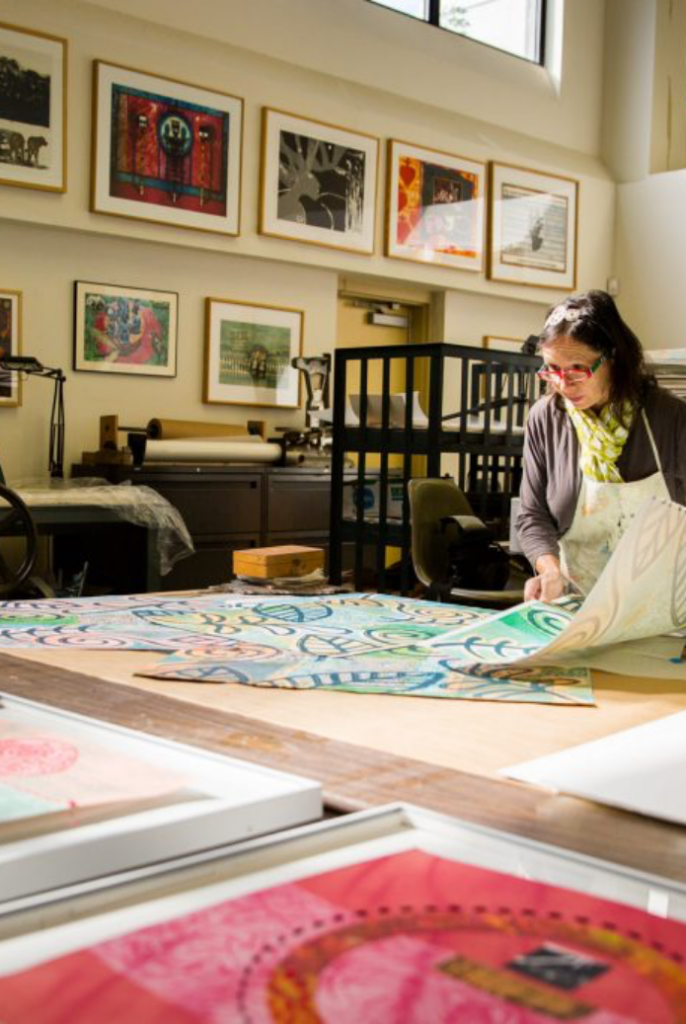 Jason L. Vourvoulias & Joyce DeGuatemala Fund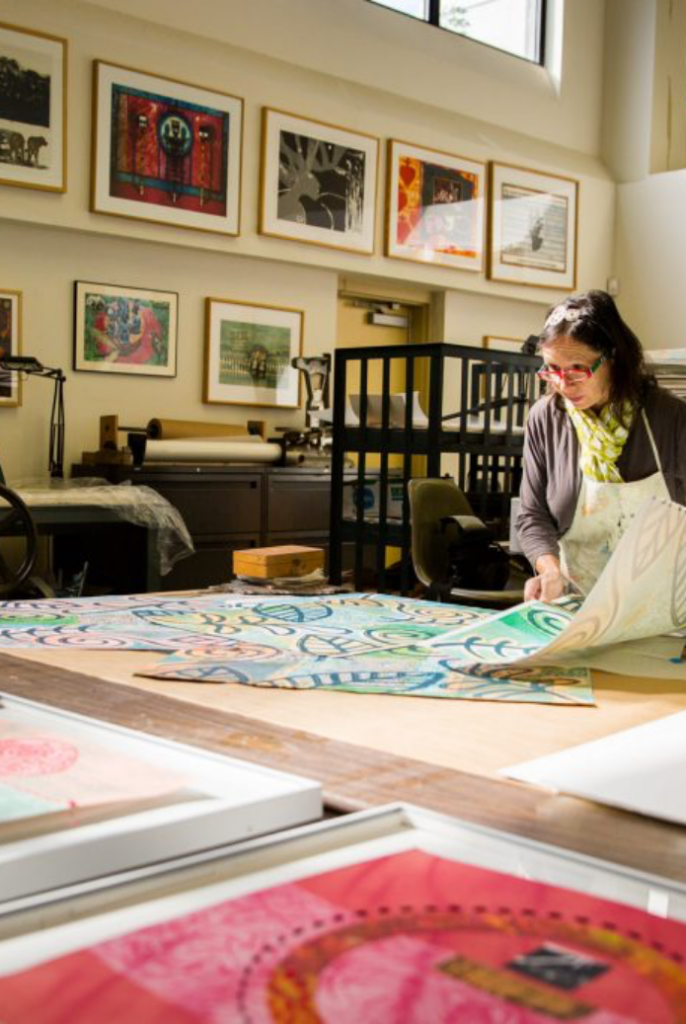 Jason Leander Vourvoulias and Joyce DeGuatemala were a multinational couple with diverse interests, unflagging energy, and a pioneering commitment to the arts. Jason Vourvoulias had many charitable and civic interests, and was a lifelong patron of the arts. He and his wife played important roles in the founding of Juannio, an annual charitable art auction to benefit the Neurological Institute of Guatemala. He also was a founder of Francisco Marroquin University in Guatemala City, and served on several committees of the Chester County Art Association. They raised three children. She died in 2000, and he passed away in 2004, after a two-year bout with pancreatic cancer. The fund created in their memory honors the couple's creative energies.
The Jason L. Vourvoulias and Joyce DeGuatemala Scholarship Fund assists women artists from. Guatemala, Mexico, Honduras, and other Latin American nations to study at Brandywine.
User the form below or call the office at 267.831.2928 to speak with the appropriate staff member. As a 501( c) 3 tax -exempt institution, your donations are tax deductible to the extent allowable by the IRS code. The receipt of a gift for your donation may lower the actual value of your deductible amount.