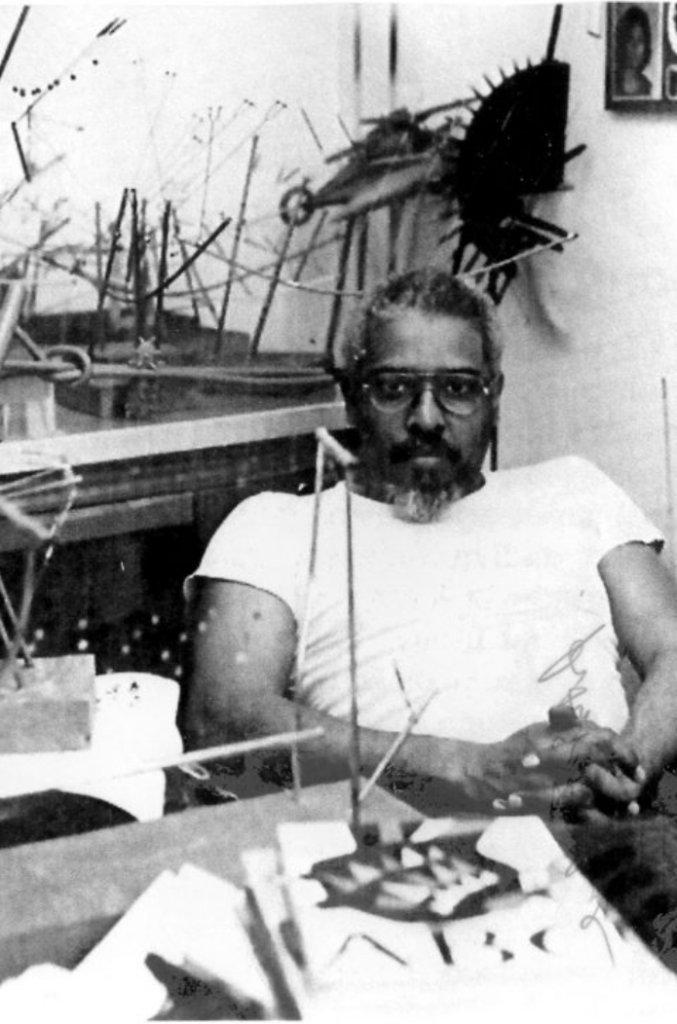 Notable highlights include "artpark" collaborations with the Pennsylvania Horticultural Society, the River Bottom performance at the Aquarium mural project site with local seniors by Jonas Dos Santos in South Philadelphia's Point Breeze neighborhood. 
Many of the projects were executed with support from the Point Breeze Federation in South Philadelphia and featured designs created by established visiting artists such as Keith Haring's We the Youth mural, Jacob Landau's Tree Man, Percy Martin's ceramic tile mural, and the murals in South Philadelphia by the Pioneer Mural Group from Swansea, Wales (UK), as part of a four-year exchange involving artists from Swansea and Cardiff. BWA programs introduced in the 1980s and 1990s demonstrated the value of visual art and instruction in community development. These productive outreach efforts included the 'Guest Artists in the Schools' and 'Summer Youth Employment' programs. Under the auspices of these innovative programs, murals were painted on construction site barriers, and student-designed billboards were placed across the city.
Over the years, the mission of the Brandywine Workshop and Archives (BWA) has evolved, as evidenced in its growing permanent collection of works of art, public programs, visiting artist residencies, one-person and group exhibitions—many of which have traveled nationally and even internationally—artist exchanges, a national network of Satellite Collections presenting prints made at BWA, and the successful launch and ongoing growth of Artura.org, a free online resource for visual-arts-based, cross-cultural, and cross-curricular education.
Founded in 1972 as the Brandywine Graphic Workshop in the Spring Garden neighborhood of North Philadelphia—a low-to-moderate income, predominantly Black and Hispanic working-class community—as a collective of artists and art teachers, Brandywine was incorporated as a 501(c)(3) tax-exempt cultural institution in 1974. In its earliest years, Brandywine focused on facilitating hands-on work with local teenagers and young artists, who went on to produce limited-edition screen-printed fine art.
The Formative Years of the Artist Residency Program and Community Outreach Projects
Visiting Artist residencies were introduced in 1975 with a collaboration between BWA and the Abstract Expressionist artist Sam Gilliam. In 1976, BWA received its first grant from the Pennsylvania Council on the Arts, which supported a residency project with Romare Bearden. That same year, Bearden received Brandywine's first Lifetime Achievement Award (then called the James Van Der Zee Lifetime Achievement Award) in a ceremony held at the Philadelphia Museum of Art. During the award's early history, artists Elizabeth Catlett, Richard Hunt, and James Wells were among those honored.
BWA's community outreach program, Visual Artists in Public Service (VAPS), ran from 1977 to 1980 with support from the Comprehensive Employment and Training Act. The program grew from 18 local Philadelphia artists in 1977 to 38 in 1980. Artists taught classes in painting, printmaking, drawing, and ceramics; they also designed and painted wall murals, introducing the concept of "artparks"—complete with murals, landscaping, and furniture—created in collaboration with the Pennsylvania Horticultural Society.
A subsequent iteration of the program, Philly Panache, emphasized art to advance community redevelopment and operated throughout the 1980s with support from the City of Philadelphia and several local foundations. Brandywine staff, led by Clarence Wood, then a BWA board member and a staff-member of the Philadelphia Museum of Art's Urban Outreach department, helped to develop the program utilizing former Comprehensive Employment and Training Act artists. Projects included murals, trompe l'oeil panels in vacant property windows and doors, landscaping, and sculpture on vacant lots.
Expansion of National and International Presence
By 1980, BWA had moved to 1520 Kater Street in South Philadelphia and started the Offset Institute to advance the use of commercial presses in creating original lithographs. As the Visiting Artist residency program reached a high of 30 artists per year, BWA also continued to increase its engagement with national and international organizations.
The establishment of the Offset Institute gained BWA a reputation for quality and innovative work, thus attracting nationwide attention. In the mid-1980s, BWA began to organize traveling exhibitions under sponsorship of the Smithsonian Institution Traveling Exhibition Service (SITES). BWA exhibitions were presented by SITES at 30 locations over four years in the late 1980s. Independently, the BWA exhibition Abstraction in African American Printmaking traveled to six venues nationally in the late 1980s.
From 1988 to 1992, BWA organized and participated in a cultural exchange program with organizations and individual artists in Wales, UK. This project brought Welsh muralists, graphic artists, and curators to Philadelphia and sent artists-printmakers from the US to the cities of Cardiff and Swansea in Wales. The program concluded with Collaborations, an exhibition at the Swansea Museum of works from six Philadelphia print workshops. Collaborations later traveled to the Uffizi Gallery in Florence, Italy, and the Carnegie Mellon University Gallery in Pittsburgh, PA.
By the late 1980s, the Visiting Artist residency program was scaled back to about 20 artists per year, allowing for more innovation with materials and processes including collage-based, three-dimensional, and mixed-media printmaking. Participating artists in this period included Benny Andrews, Camille Billops, Barbara Chase-Riboud, John E. Dowell Jr., Melvin Edwards, Edgar Heap of Birds, Martha Jackson-Jarvis, Jacob Landau, Alvin Loving, Keith Morrison, Kenneth Noland, Jules Olitski, Bettye and Alison Saar, Juan Sanchez, John T. Scott, William T. Williams, and a host of additional artists representing diverse, historically underrepresented communities, including Asian, Latinx, and Native American. Many of these artists' works formed the basis for future gallery exhibitions.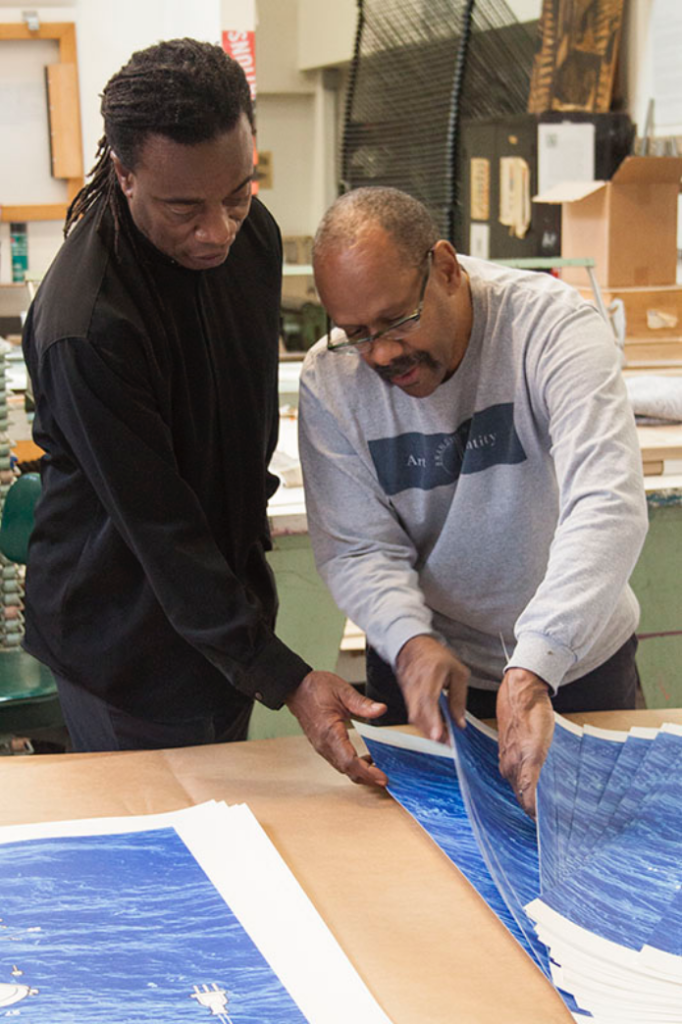 By the 1990s, BWA-organized exhibitions were traveling abroad to to multiple nations in Africa, South America, and the Middle East under the auspices of the US State Department's Art in Embassies programs. During the tour of a BWA exhibition in Santiago, Chile, the US State Department sponsored a visit and lecture for Chilean artists by president Allan Edmunds; BWA, in turn, hosted Chilean artist Paul Beuchat in residence.
In 1993, BWA opened the Printed Image Gallery at its new home, a renovated historic firehouse at 730 South Broad Street—just a few blocks from the previous Kater Street location—in conjunction with Broad Street's designation and development as the Avenue of the Arts cultural district. BWA's firehouse building and gallery was the first art facility to open on the newly dedicated Avenue of the Arts.
Organizational Development and the Growth of a Major Art Collection and Archives
In 1997, the custom-designed Print Shop Building at 1404–1410 Pemberton Street (728 S. Broad Street) was built to house the Offset Institute, facilities for education programs including computer and video training, and state-of-the-art print archives. After-school instruction in video, web design, and computer graphics attracted new funding and encouraged a shift in focus from off-site community-outreach programs to on-site offerings for high school students and others on BWA's campus. The goal was to establish BWA as a valuable cultural resource for Philadelphia, with easy access to its campus on the increasingly active Avenue of the Arts. Between 1993 and 2003, more than 330 high school students received training in digital media—graphics, videography, and collection documentation—as well as framing and exhibition planning during after-school and summer workshops.
Inspired by the growing number of editioned prints being produced at BWA and the organization's commitment to promoting and documenting diversity in contemporary art, BWA began donating prints to art museums, universities, and heritage centers in the 1980s. BWA continued to establish Satellite Collections at other institutions, art museums, universities, libraries, and ethnic heritage institutions. Today, there are a total of 19 Satellite Collections at locations across the United States and at the Wifredo Lam Contemporary Art Center in Havana, Cuba. BWA Satellite Collections are featured at the Arizona State University Art Museum, Tempe; Scripps College, Claremont, CA; Hampton University, VA; University of Delaware Museums, Newark; Rhode Island School of Design Museum, Providence; Philadelphia Museum of Art; Warfield Center for African and African American Studies at the University of Texas, Austin; Museum of Contemporary Native Arts, Santa Fe, NM; and Harvard Art Museums, Cambridge, MA, among others. Catalogs were produced to accompany exhibitions in the Printed Image Gallery presenting the work of Jacob Landau, Sam Gilliam, and Paul F. Keene Jr., among many others. Most Printed Image Gallery exhibitions were organized by accomplished guest curators who often contributed essays to further scholarly and popular understanding, awareness, and discussion.  
Between 1993 and 2003, more than 330 high school students received training in digital media—graphics, videography, collection documentation—as well as framing and exhibition planning during after-school and summer workshops.
Three Decades of American Printmaking: Prints from the Brandywine Workshop Collection was published in 2004. Featuring illustrations of nearly all prints made at BWA and essays discussing BWA's history, collections, and approaches, along with artists biographies and other sources for reference, the publication quickly became a primary resource for learning about BWA and the contributions to American art by people of color over the preceding 30 years.
By the mid-2000s, Brandywine was working with the Philadelphia Museum of Art (PMA) toward a major acquisition of Visiting Artist prints and to plan an exhibition of those works. Full Spectrum: Prints from the Brandywine Workshop was presented by the PMA in fall 2012. The exhibition opening was the highlight event of the yearlong celebration of BWA's 40th. Festivities concluded in spring 2013 with the 21st-annual presentation of the Lifetime Achievement Awards at the National Museum of American Jewish History on Independence Mall in Philadelphia.
In fall 2008, BWA temporarily closed the historic firehouse and the gallery exhibition programs due to facade damage, and later, flooding. During this time, BWA continued its exhibition program with presentations in the Print Shop Building's Glass Lobby Gallery of works by Danny Alvarez, Tomie Arai, Andrea Chung, Louis Delsarte, Edgar Heap of Birds, Samella Lewis, Jack Malotte, E. J. Montgomery, Keith Morrison, Peter Paone, Libby Newman, and Michael Platt, among others. 
In fall 2017, BWA proudly reopened its newly restored firehouse and Printed Image Gallery and has since presented solo exhibitions of prints by William Majors, John T. Scott, and Romas Viesulas, as well as the group exhibition Six Women Printmakers, which highlighted local artists. More recently, the gallery has hosted a solo exhibition by Alexis Nutini; Selections from the Bob Blackburn Printmaking Workshop Collection; Pigment of Soul: Visiting Artist Prints from 2019-2021, curated by Halima Taha; and All My Ancestors: The Spiritual in Afro-Latinx Art, curated by Tatiana Reinoza, PhD.
As part of new programing for the reopening BWA initiated ArtistNConversations galley talks and panel discussions, which have featured Cynthia Back, Agathe Bouton, Willie Cole, John E. Dowell Jr., Melvin Edwards and Anthony Panzera, Kakayoung Lee, and Maceo Montoya, among others. These programs continued remotely when the COVID-19 pandemic closed most cultural and entertainment venues for an extended period. ArtistNConversations now features curators such as Blake Bradford and Halima Taha and continues as hybrid programming.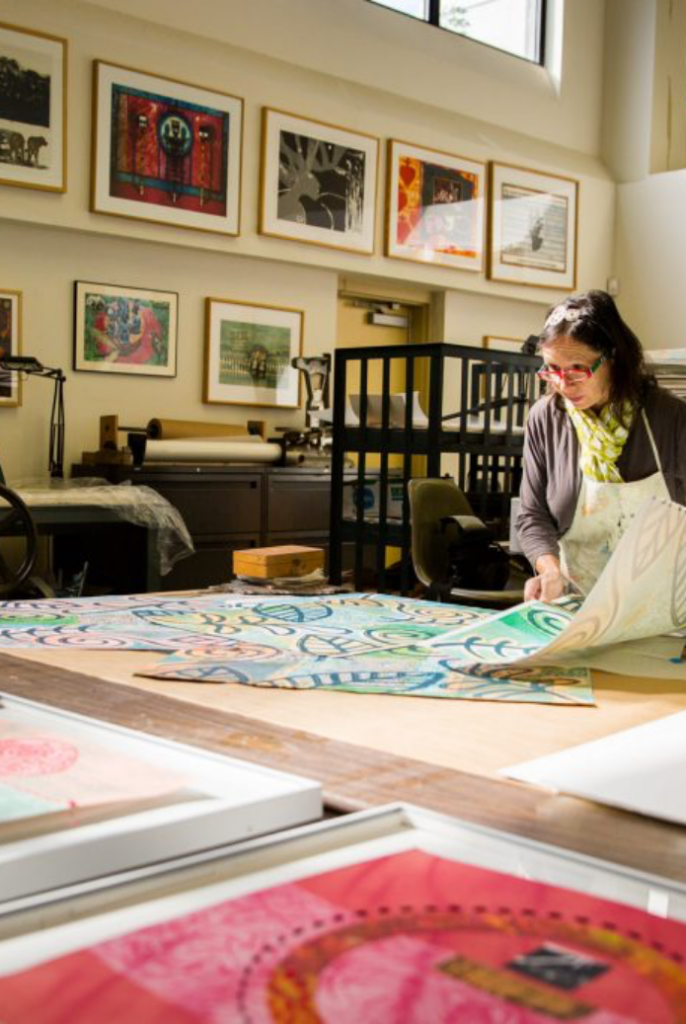 Documentation and a Changing Focus to Multicultural Education, Preservation and Interpretation
Decreased funding and a technological shift in the fine arts industry spurred a strategic shift in BWA's mission. Today, BWA recognizes imperative needs to focus on building technological infrastructure, develop content for web-based formats to better connect and communicate with audiences, and increase private contributions and earned income.
The organization's name was formally changed in 2013 to the Brandywine Workshop and Archives (BWA) to better reflect deepened commitment to documentation, preservation, and promotion of the permanent collection and archives.
Along with collections preservation and documentation, BWA remains firmly committed to the artists who participated in its residency program over the years. Today, with increasing global interest in contemporary art created by underrepresented groups, BWA has begun producing video documentaries of its visiting artists, especially women and people of color. With an eye to the future, BWA has established the Institute for Inclusion, Diversity, and Equity in Education and the Arts (IIDEEA) to connect all BWA Satellite Collections and provide free, easy web-based access to the BWA database of images and related research, digital media, and educational materials. This open-source educational resource, named Artura.org, made its public launch in early 2020.
Among long-term goals now being realized in conjunction with BWA's 50th anniversary in 2022 is to establish a Satellite Collection in every region of the United States and at least one country in Africa. BWA programming will remain deeply committed—and grow increasingly effective and impactful—to cross-cultural and cross-curricular education. We believe our efforts will support an increasing number of young artists of color in pursuing successful careers as studio artists, while contributing substantively to meeting the growing need for diversity among art educators and museum professionals.
Ultimately, achieving these programming goals and expanding institutional partnerships here and abroad will ensure that BWA advances its mission of connecting, inspiring, and building bridges among global communities through visual arts and culture.