Brandywine fully funds short-term residencies for artists to produce limited edition, original prints using traditional media or a combination of traditional media with new processes based in current and emerging technologies. Each residency is documented and artists participate in the ArtistNConversation program in the gallery. To the extent possible, residency activities are video-taped for the archives.
The Visiting Artists in Residency Program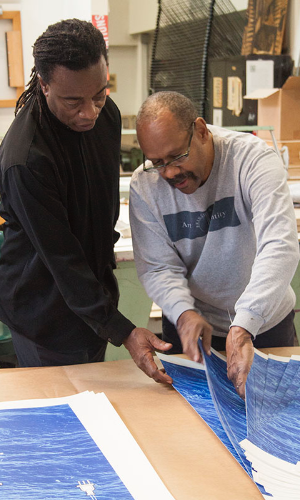 This national program provides individual artists and those nominated by the National Advisors an opportunity for a fully paid one-two week print production residency in Philadelphia. Names and background materials – image files, resumes, etc are presented to the Review Committee in early January and a list is generated based upon the level of funding that is available for residencies to occur the following year. As a national program, it is very competitive. Artists selected tend to emphasize creating prints as an extension of their aesthetic interests in another medium, not the reproduction of an existing image or further focus on traditional processes.
The program emphasizes innovation where possible, exploring new ideas and incorporating new materials and technology (i.e., digital cutters). In-person residencies allow for travel and hotel accomodations. Virtual residencies allow for more of the budget to go toward production expenses.
About Libby Newman: 
Libby Newman graduated from the University of the Arts with a BFA in Printmaking in 1980. She was a government arts advocate and the founding director and curator of the University City Science Center Art Gallery (Esther M. Klein Gallery). Newman was also the curator for Pennsylvania's Governor's Mansion under Richard Thornburgh. Her work is in the collection of over 32 museums and libraries around the world. She was given the honor of being selected to be A Distinguished Daughter of Pennsylvania.
Statement by Libby Newman:
"I applied for an internship at the Brandywine Workshop in 1984 to learn more about printmaking under the guidance of master printers currently at the Brandywine. Allan Edmunds had shown such a commitment and knowledge to the art that I knew I could learn a great deal from him. My thinking proved correct. I believe in giving back to the art community that has always been so generous to me."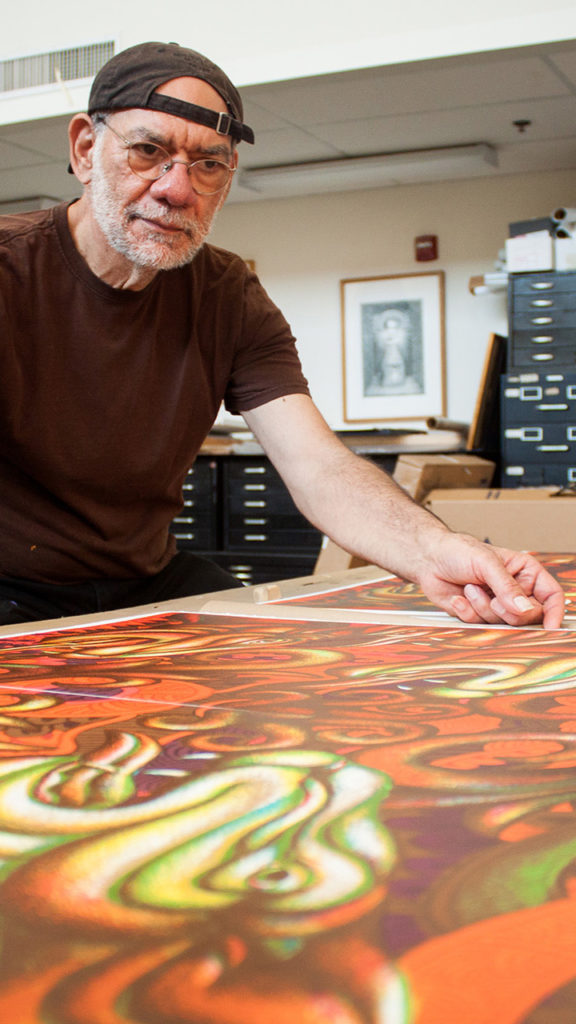 Residency Eligibility Requirements and Goals: 
The goal of the residency is to make it possible for artists living in the Philadelphia area to make an edition of original fine art prints and gain a workshop experience that advances their studio practice and professional careers. The Fund is given to a local artist not currently enrolled in a University Program, for a residency at Brandywine Workshop and Archives. All projects must include some use of the print medium or printing process — screen printing, wood-cut, or offset lithography using photo-sensitive aluminum plates or a combination of processes. The money is provided to cover the costs for materials and the master printer. The modest project should be accomplished during the months of April to October of the Fund receiving year. Visual artists of any medium can apply.
Joyce de Guatemala Scholarship Fund
The Dream of Joyce de Guatemala: Mexican sculptor and printmaker Joyce de Guatemala Bush Vourvoulias studied fine arts at the National Autonomous University of Mexico, Mexico City, and the University of Wisconsin, Madison. She was born in Mexico City to Cassius Albert Bush and Martha Bush of Guatemalan heritage. In 1993 she participated in the visiting artist program, and served as a Board member of Brandywine Workshop and Archives. 
Following her sudden passing in 2000, Joyce de Guatemala left a legacy of artistic works and service that reflected her interests in the environment and people. She was particularly interested in the plight of those who were geographically or economically isolated and had few opportunities to advance their art careers. 
Her husband, Jason, who died shortly after Joyce, shared her interest and passion for the arts. Acting upon the dream of Joyce to bring more Latina women visiting artists to Brandywine for exposure, training, and career advancement, the family established the Joyce de Guatemala and Jason Vourvoulias Scholarship funds in 2011 to support the goal. In recent years, the residences were expanded to include all BIPOC women. In order to fully realize Joyce's dream, sponsored artists would demonstrate a commitment to furthering their career through the residency opportunity and explore public service through their art.
De Guatemala was an active member of the Philadelphia Art Alliance, Brandywine Workshop and Archives, and the Institute of Contemporary Art, Philadelphia. She served as the president of the Fine Arts Committee for Patronatos de Bellas Artes, and on the board of directors for the Latin American Guild for the Arts. Her sculpture Hunters of the Dawn is in the collection at Temple University, Philadelphia, where it is installed on campus.
---
Residency Description: Each artist is asked to think in terms of multiples of an image. In addition to original prints, limited editions of collages, mixed-media works on paper and dimensional works may be considered. The key is to have enough works so that they can be distributed (50/50 with BWA) which would leave images available for distribution to public collections, sale to help fund future residencies going forward and placement in the permanent Collection and Archives of Brandywine.