Dos Tres Press Color Coded | Alexis Nutini
June 21 – October 5, 2019
The Printed Image Gallery
Brandywine Workshop and Archives
730 S. Broad Street
Philadelphia, PA 19146
---
Opening Reception: Friday, June 21 2019, 5:30p
Musical Performance by Los Guachinangos at 7p
---
The Printed Image Gallery is honored to present the work of Alexis Nutini. This exhibition is a continuation of Brandywine's year-long celebration of relief printmaking showcasing artists who have contributed to the field through education, production and experimentation.
"Dos Tres Press Color Coded", is an exhibition presenting explorations into new territories in printmaking. In his most recent works, Nutini merges traditional hand printing techniques with contemporary technology.
Excerpt from the catalog:
Dos Tres Press: Color-Coded features Alexis Nutini's rigorous experimentation with relief printmaking techniques through hand-carved, reduction woodblock printing and the digital technology of platemaking with Computer Numerical Control (CNC) routing, as well as monoprint layers and artist books. Nutini has explored many themes including diasporic perspectives on natural and urban environments, the fertility and fragility of islands and seascapes, the Mexican altars of the Día de los Muertos celebration and creative partnerships with community activists and artists. His prints honor the pregnant possibilities of the graphic medium as a vehicle for the interplay of many visual languages and cultural references, and the marriage of improvisation with skillfully planned results.

Nutini works out of his own printmaking studio in South Philadelphia where he maintains a print publishing business, Dos Tres Press. He is also an instructor of printmaking at Tyler School of Art, where he earned his M.F.A. in 2005. He is focused on creative alliances and expanding the possibilities of relief printmaking through traditional and new technologies. Visiting his South Philadelphia studio, one walks into a meticulous space that buzzes with color, line, and motifs that represent the diversity of peoples and cultures that enrich his images.
Alexis Nutini's prints pulse with an active system of signs and textures that communicate the multilayered aspects of memory, communities, and experiences of living in a diaspora, in which borders are never completely fixed. From his earliest years, Nutini understood the world as a place with open gates and porous borders, which has impacted his practice and pedagogy. He was born in Mexico to scholarly parents, who established their home as a place of rigorous learning, cultural inquiry, and community engagement. Both of his parents were academics in the field of cultural anthropology, and he learned from them about geography, the history of indigenous peoples, and the colonial conquest of Latin America. As a young boy, he accompanied his parents on their fieldwork in rural villages and major cities all over central Mexico.[…]

[…] Landscape has been an overarching theme for Nutini, and these compositions are characterized by bold and often playful layering of patterned surfaces with bright, electric color and decisive graphic lines. In his panoramic sextet of prints that make up Cosmic Drift,2012, he presents a continuous turquoise horizon that branches into smaller vignettes of pattern and form, delineated in primary hues of yellow and electric orange. Water and sky become one, and only by looking closely can the viewer distinguish the original contours of inverted clouds reflected in the ocean, or the shapes of tamarind pods scattered on the ground. The seemingly infinite lines of seascape and its powerful currents are the only grounding for the eye in this landless scene. Cosmic Drift alludes to the sense of floating, and the blending of sea, sky, and the heavens. At once, great distance and extreme proximity collapse into a constructed view of multiple places. This expansive perspective provides a sense of immersion into pure color and line.

Sophie Sanders, PhD is an art historian and artist working in printmaking and painting in Philadelphia, PA.
You can purchase the full publication for $10.
---
FREE PUBLIC PROGRAMMING
Opening Reception
Friday, June 21, 2019 5:30p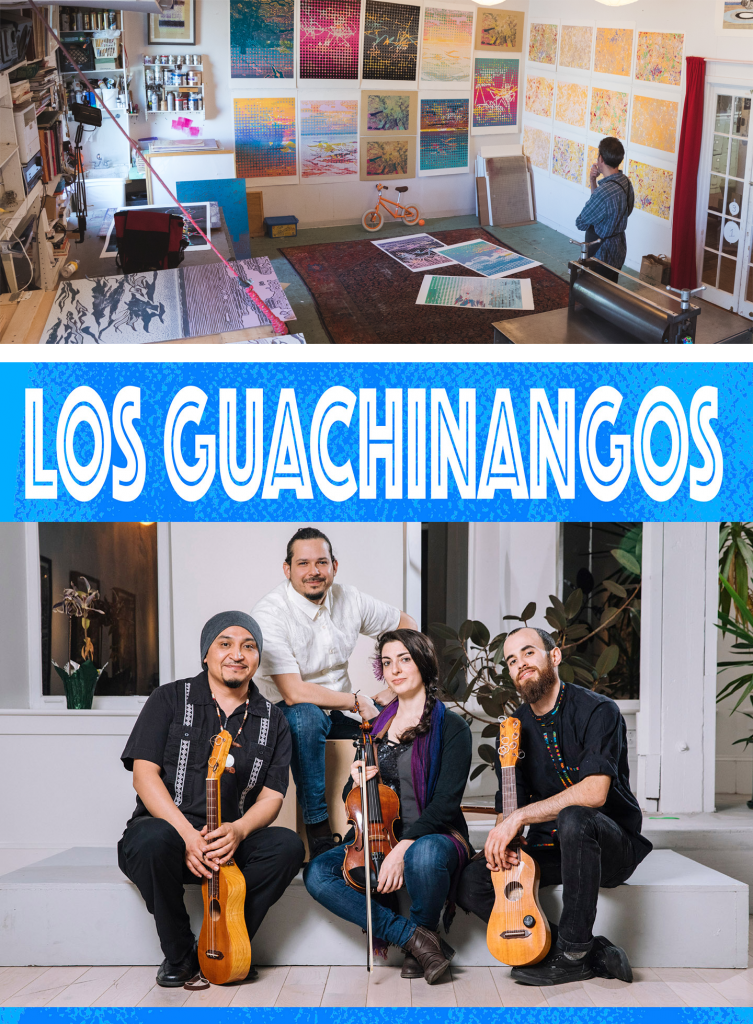 Join us as we kick off the summer with this blockbuster opening reception for the exhibition. Doors open at 5:30 pm and will be followed by a performance by the musical group Los Guachinangos at 7pm performing music with traditional Son Jarocho roots. Bring a partner and some dancing shoes.
---
Artist Lecture
Wednesday, October 2, 2019 6:00p
"The Gilliam Project," a collaboration with Dos Tres Press, Sam Gilliam and Brandywine Workshop and Archives.
Learn about the exciting project BWA and Dos Tres Press embarked during the summer to produce an ambitious edition project with world renown artist Sam Gilliam. Listen to the story of how this project came together and how it ties the legacy and history that was started with Sam Gilliam dating back to 1975.
---
Exhibition Tours & Visiting Hours
by Appointment
Brandywine Workshop and Archives is open M-F 10 am – 5 pm, but please make an appointment if you plan on visiting the exhibition.
All inquiries and appointments can be made by calling 215-546-3675 or via email at: prints@brandywineworkshop.com
---
Exhibit Sample Images