Visiting Artist Residency
Brandywine Workshop and Archives (BWA) begun it's Visiting Artist Fellowship in 1975 with the residencies of Sam Gilliam and Romare Bearden. Since then more than 400 artists have been invited to collaborate with master printers in the production of limited edition prints and art projects. 
Visiting Artist Fellowships are open to artists nationwide and BWA annually brings to Philadelphia more than a dozen of the most talented artists. Selection is done by a peer panel consisting of members of the Brandywine Artist Advisory Committee. 
It also provides several talented local artists the opportunity to work in a collaborative setting to publish limited editions.  The fellowship application process is open to serious visual artists working in any medium based on artistic excellence, it is highly competitive and the residencies are highly prized.
From  each  edition  created,  the artist retains one-half of the signed edition, Brandywine  retains  work  for sale to finance future residencies,  inclusion in traveling exhibitions for placement in its permanent collection , for distribution in satellite collections at public institutions around the country as contributions to national arts and educational institutions (which have included the Harvard University Museums,  University of Texas Austin, Philadelphia Museum of Art, Scripps College, University of Delaware Museums, Hampton University Museum and the Library of Congress, among others).
 All artists-in-residence are provided supplies, equipment and production services free of charge.
To learn more about the history of the residency program check out our short documentary here.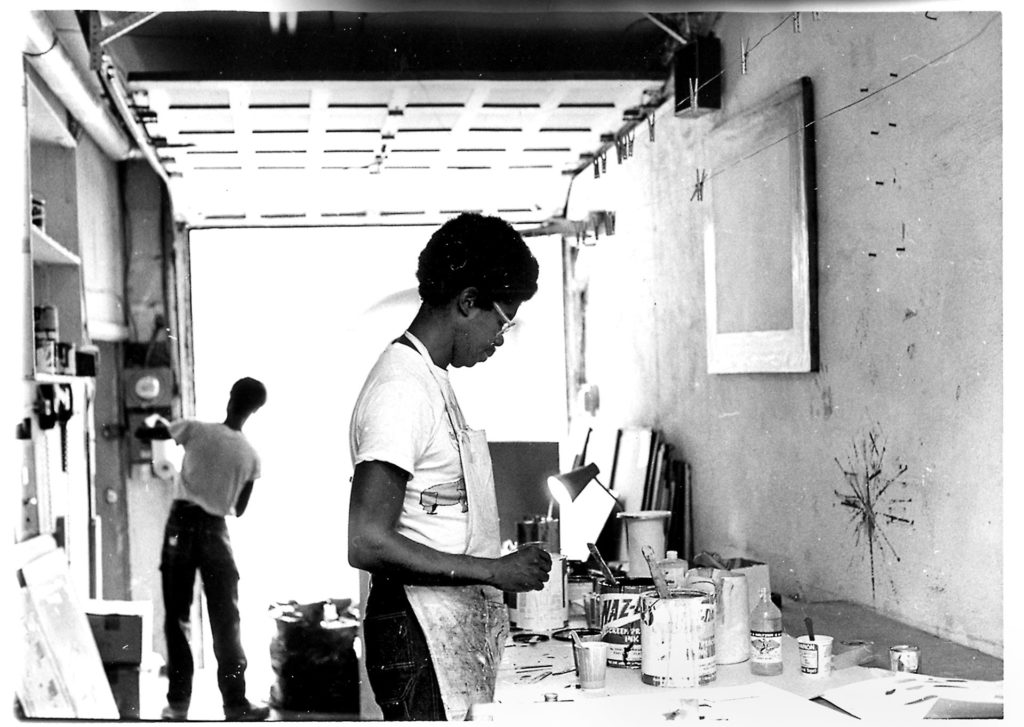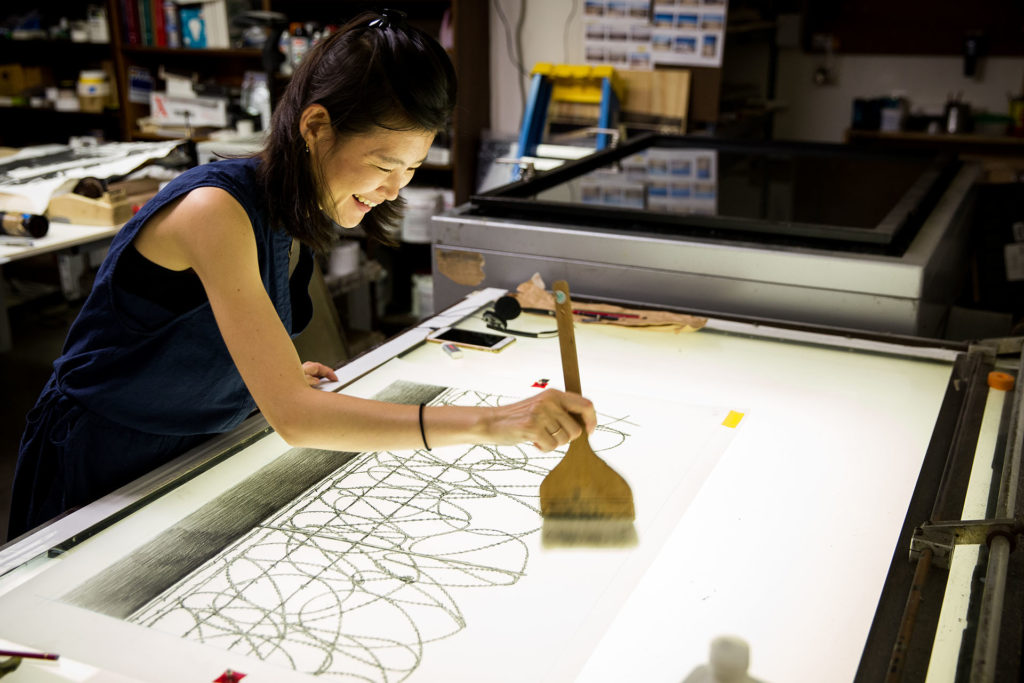 BWA launched a citywide effort bringing together the collective skills and facilities of several printmaking and fabricating workshops in Philadelphia to challenge traditional notions of printmaking. 
After several decades of promoting the flat-bed and cylinder-based offset press process as a source for printing original lithographs and editions, BWA found itself an increasing need to appropriate different resources including new tools and printmaking advances such as digital and laser cutting processes, while continuing our commitment to education around traditional media and its history as a creative art form.
We launched the new approach for artist residencies that represents an expansion of our in-house capacities and affords artists the opportunity to work with a variety of ways of creating multiples. Artists are invited to explore the possibility of working in more than one production studio during their residency and may work with hand-made paper, computer-aided rapid prototyping, and traditional printmaking techniques or all in one project depending on it's complexity.
OUR COLLABORATING STUDIOS
paperTHINKtank is a community-accessible creative hand papermaking studio in the Port Richmond neighborhood of Philadelphia, dedicated to making paper, collaborating with artists, and growing the paper, print, and book communities of the city. paperTHINKtank produces sustainable and local handmade paper and books using invasive plants and renewable resources. We offer classes and workshops in the craft of sheet production, and specialize in the creative applications of paper and paper pulp to make original paper artworks.
The goal of paperTHINKtank is to strengthen the community of hand papermakers in Philadelphia and bring greater visibility to an underrecognized artform.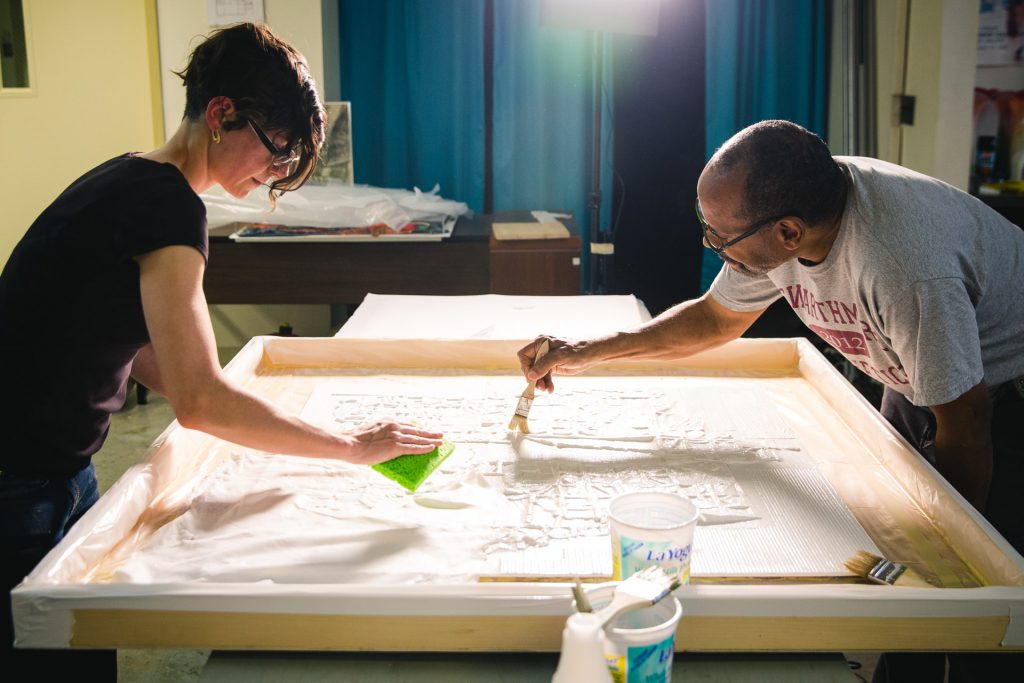 Fine Handmade Papers
Offering high quality custom fine art papers in a variety of sizes, colors, weights, and using various fibers.
Sheet sizes range from stationery size to broadsides, and large format 19″ x 26″ up to 48″ x 84″
Pulp Beating
Converting raw fiber from plant or textile sources into paper pulp suitable for its intended purpose (2D or 3D).
Standard fibers (cotton, abaca, flax, etc), rag (linen, cotton, etc), and invasive plants (suitable for papermaking) can be used in any combination to make custom paper pulps.
Creative Collaboration
Partnering with local and national artists to make custom editions of paper and/or paper artworks, unique or editioned, for special projects.
Techniques and formats include: pulp painting, pulp printing, sculptural paper, and artist books.
Nicole Donnelly is a hand papermaker and visual artist specializing in sculptural paper artworks. She is the President of the International Association of Hand Papermakers and Paper Artists (IAPMA), 2015–2021; and the founder and master papermaker of the creative papermaking studio paperTHINKtank. She teaches paper and book arts at the Pennsylvania Academy of Fine Art and other institutions. She received her MFA from the University of Iowa in 2009 and her BA from Bennington College. She has received grants and fellowships to complete residencies at Obara Paper Art Museum in Japan; the Philadelphia Museum of Art; Morgan Conservatory of Paper; Goldwell Open Air Museum; Vermont Studio Center; and Women's Studio Workshop; and her artwork has been exhibited throughout the United States and internationally in Brazil, Bulgaria, Canada, China, Germany, Israel, Japan, Korea, Mexico, and the UK.
Learn More:
All work with paper pulp is wet process
and must be completed
before
the paper has ever dried (so before any dry printing).
A samples creative sequence would be:
– pulling sheets of paper;
– half-press to expel some water but not all;
– application of pigmented pulps (using stencils or exposed screens);
– full-press to expel as much water as possible;
– drying the paper flat (24-48 hrs);
– paper artworks go to the printer for litho or relief printing (any ink base can be used).
Atelier Galen Gibson-­Cornell
Atelier Galen Gibson-Cornell is a collaborative printmaking workshop specializing in creative and experimental approaches to the traditional technique of Lithography. Artists working in the studio can maximize the versatility and high-fidelity of photo-lithographic plates, take advantage of the unparalled richness of drawing on lithographic limestone, and work together with Master Printer Galen Gibson-Cornell to design innovative and specific solutions to printmaking projects.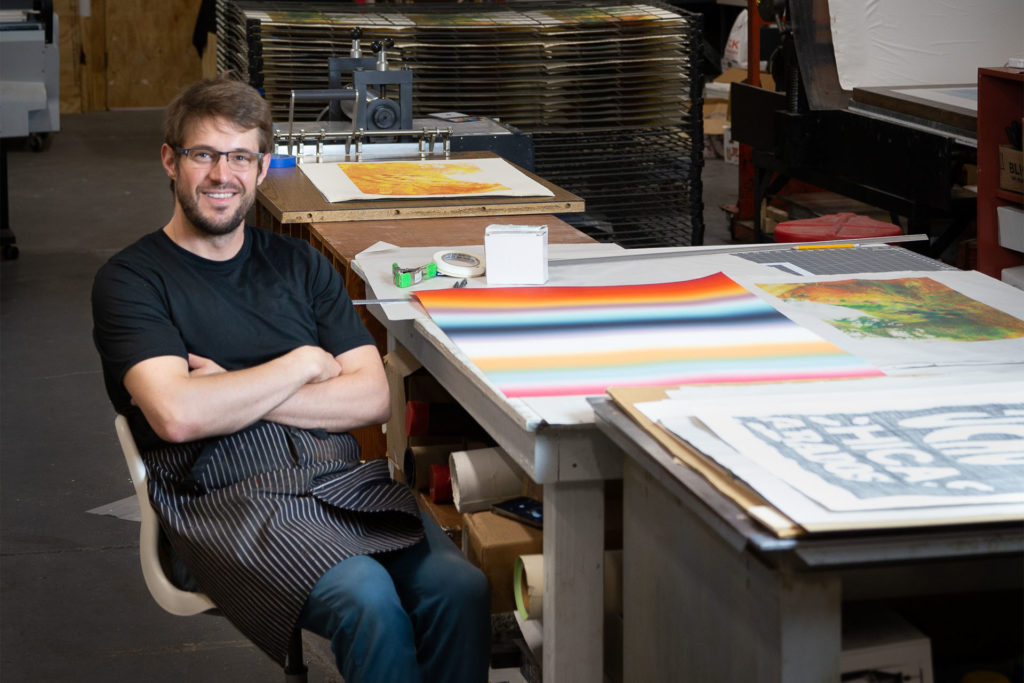 The Atelier is located in a 2,000+ square-foot industrial space in the Port Richmond neighborhood of Philadelphia. It includes a Charles Brand Lithography press, a Fuchs&Lang Lithography press, a Takach relief/etching press, and minimal screen-printing capacity. The following are specifications for possible print matrices, which can be used individually or combined within a project.
Photo-lithographic plates. Maximum print size: 30″ x 46″. Images can be generated by drawing and painting on Mylar, and/or by digitally outputting imagery onto transparencies.
Lithographic Stones. Maximum size 30″ x 40″. Images can be generated by drawing, painting, or transferring greasey materials directly onto the stone surface.
 Monotype printing from plexiglas. Sizes variable. A useful solution for more experimental and unique ink application.
Collaboration Philosophy:
An ideal collaboration involves a meeting of minds: the artist provides the overall vision, beginning with imagery and conceptual motivation; and the master printer offers technical instruction and suggests new and interesting processes, including experimental solutions. Gibson-Cornell specializes in designing an individually tailored approach for each artist working in the Atelier, beginning with traditional techniques and adapting the printmaking process as part of a unique collaborative experience.
Galen Gibson-Cornell is an internationally trained artist and printmaker currently teaching Lithograpy at the Tyler School of Art at Temple University. He holds a Master of Fine Arts degree from the University of Wisconsin-Madison, and has professional experience working in printshops in France, Germany, Hungary, and Argentina, as well as Tandem Press in Madison, Wisconsin. He was awarded a Fulbright Fellowship in 2013–2014 for his work within the printmaking community of Budapest, Hungary. As an artist, his work is represented by Bertrand Productions in Philadelphia and Bródy Studios in Budapest.
Learn More: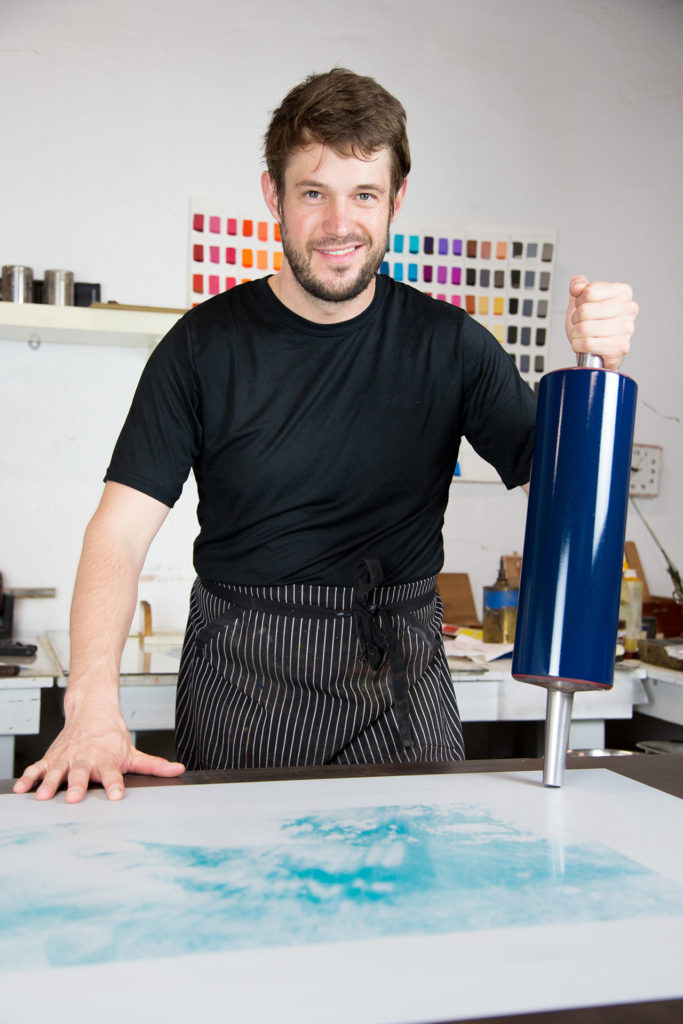 Dos Tres Press is a print shop in south Philadelphia specializing in rigorous experimentation with relief printmaking techniques through hand-carved, reduction woodblock printing and the digital technology of platemaking with Computer Numerical Control (CNC) routing. Alexis Nutini, the founder and master printer, focuses on one-of-a-kind impressions and developing collaborative print-based projects with international and local artists as well as socially engaged Philadelphia organizations. Committed to the advancement of the printmaking medium, Dos Tres Press invites the local community to actively participate and learn through workshops, demonstrations and the mentorship of aspiring printmakers.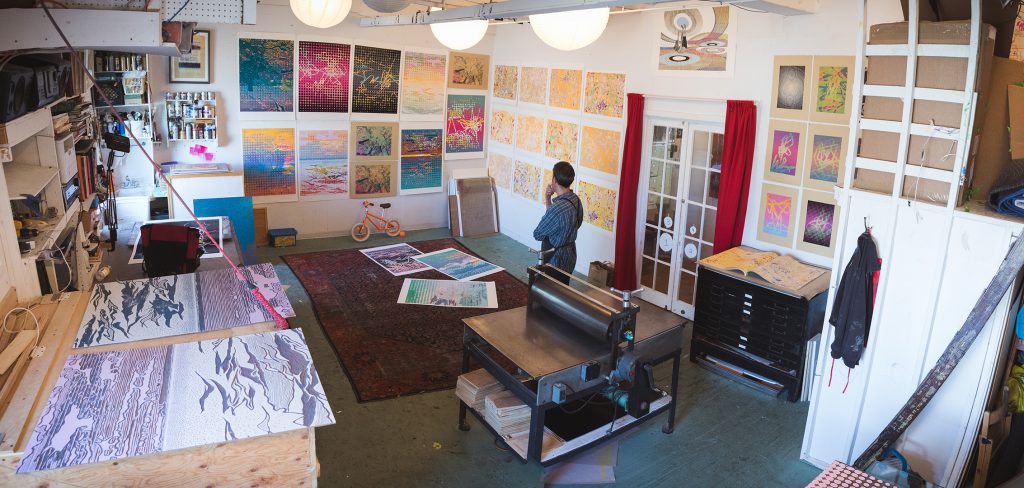 Limited Edition and Monoprint Relief Printmaking
Production of multi-plate woodblock prints and single plate reductive process. Maximum paper size: 30" x 40"
Collaborative assistance with traditional and experimental monoprint techniques utilizing found materials and readymade objects.
Facilitation with color matching and developing complex multi-color printing in opaque, tonal and translucent inking
CNC Routing Woodcut and Object Fabrication
Creation of woodcut blocks through the digitization of drawings and photographs. Maximum plate size: 28″ x 28″
Development of specialized registration systems for multi-plate prints, reduction prints, puzzle compositions and freeform relief experiments.
Fabrication of limited edition plywood objects, vignettes and images.
Collaboration Philosophy:
My collaborative process is at the heart of what printmaking has always been (a democratic and community-based medium) and serves many personal goals such as connecting and strengthening bonds with other creatives, sharing the medium with those unfamiliar or that do not normally have access to it, and as a way to accelerate my understanding and exploration of the process.
Alexis Nutini is a cross-cultural artist who has been a resident of Philadelphia for more than 15 years. Born in Mexico City, he received an MFA in Printmaking from the Tyler School of Art in 2005, a BA in Fine Art from St. Mary's College of Maryland in 2000 and completed a Fulbright Fellowship in Barcelona, Spain in 2001. Alexis teaches as an Adjunct Professor at the Tyler School of Art, Penn State Abington and instructs printmaking in community settings throughout the region. He runs Dos Tres Press, a print shop in South Philadelphia where he produces limited edition woodcuts and printmaking projects influenced by his environment and his diverse cultural upbringing.
Learn More: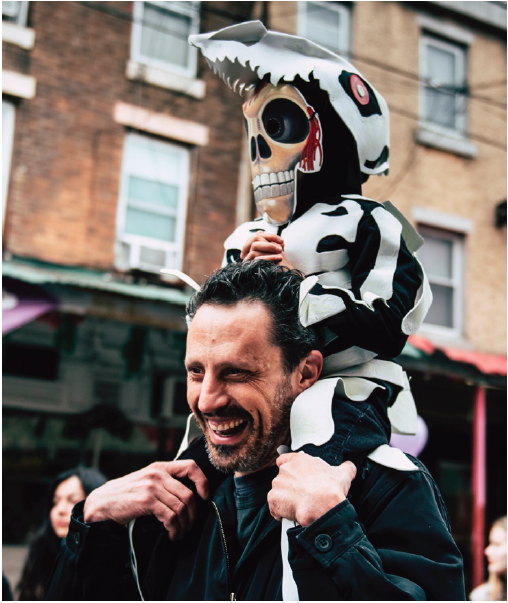 The biggest plate that can be cut is 28 x 28 inches. The biggest paper that can be printed is 30 x 40 inches.
Depends on the image, amount of marks and scale. The best way to do this is for me to receive an image and then I can put it through the program so I can see how long it will take. Then I can do a quick test of a portion of it to see if it can work. A good rule of thumb is 1/32 for a positive(printed line) image as far as line weight.
I think the best way to do this is to send some ideas over so I can give a thumbs up or thumbs down and narrow down what can be done for a successful print. 
I really doesn't take much for me to plug the file in and see if it is possible so I would encourage this.
ADDITIONAL RESIDENCY RESOURCES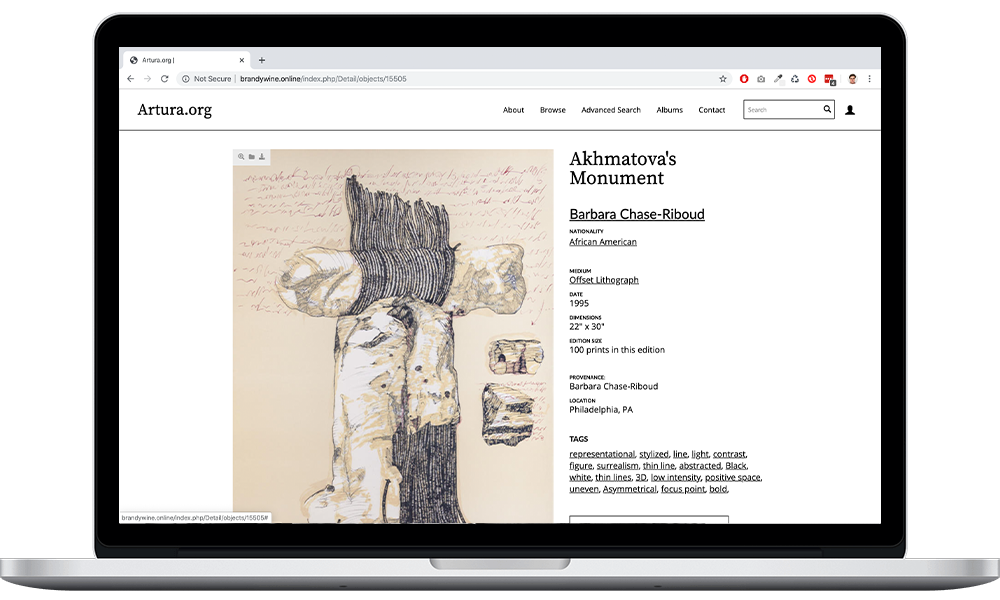 Brandywine's free, interactive digital archive of culturally diverse art and artists, Artura.org gives visitors access to a wide variety of voices, experiences, and histories not found in any other single open-educational resource. See what other artist have done before through their residencies.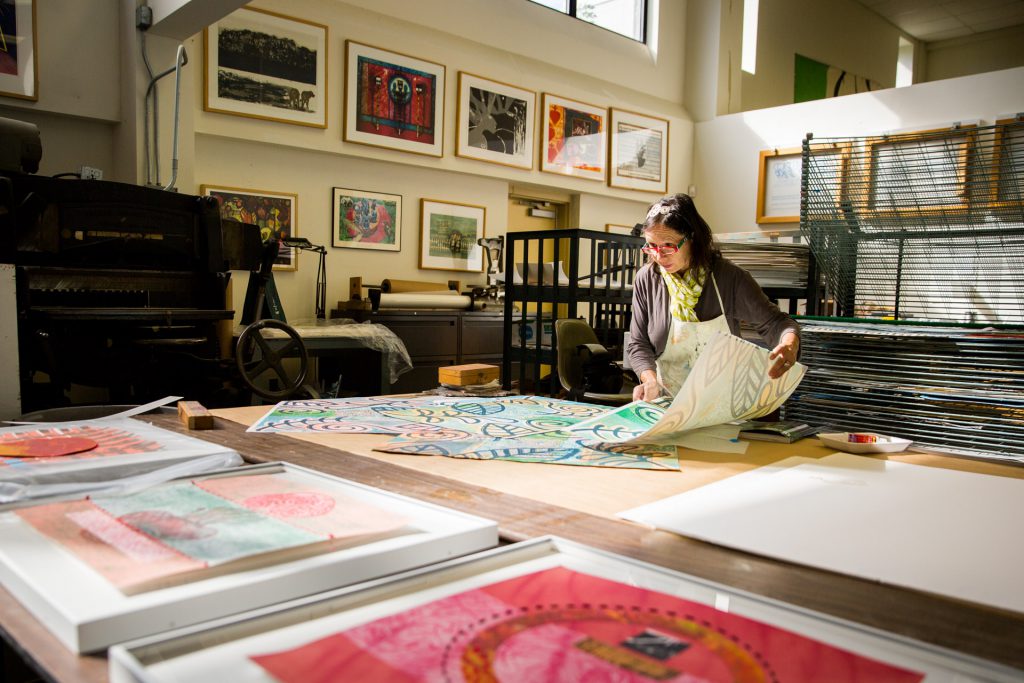 The Residency Experience Videos
Checkout some of the voices from past artists-in-residence.